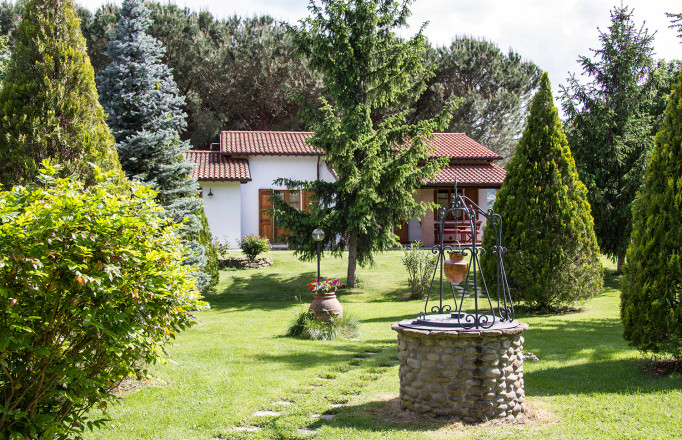 Farmhouse Il CampoGrande is located in Castiglion Fiorentino, within the province of Arezzo, surrounded by the famous Tuscan countryside amid smooth hills covered with woods, vineyards and olive groves. The house consists of three beautiful apartments for holiday rentals developed from the reconstruction of old agricultural buildings. The furniture perfectly matches classic Tuscan-style features, such as cotto floors and ceilings with exposed wooden beams, as well as all modern conveniences, such as Sat-TV and free wi-fi internet connection, for a really unforgettable stay in Tuscany.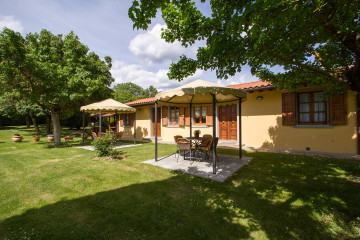 The holiday apartments at farmhouse Il CampoGrande are surrounded by a huge neat garden equipped with tables and chairs, where our guests can pleasantly spend their days and have lunch or dinner in the open air amid peaceful nature. All the apartments can take advantage of many common facilities: wood-fired oven, barbecue and multi-purpose room with fireplace where guests can decide to have breakfast or half board service with a little extra charge (see the "Services and Facilities" page) to taste traditional dishes of the Tuscan cuisine enriched with the experience and the secrets passed on from generation to generation.
The wonderful park of the farmhouse is embellished by a panoramic 12 x 6 swimming pool with a view onto the hills, which is located behind the apartments in order not to disturb their tranquility. The swimming pool is open from May till October and has a functional sunbathing area fully equipped with sun beds, sun umbrellas, pool chairs and a shower. The wi-fi internet connection is also available in the pool area and in the garden. A little corner of the garden has been turned into a play area for children so that they can have fun and safely play outdoors during their holiday in Tuscany.
The country house has an independent entrance and is totally enclosed so your pets will be more than welcome to come over with you. So choose Il CampoGrande to spend amazing holidays in Tuscany with your cat or dog. Guests will also have a private parking area with four covered parking spaces at their disposal.
Activities
The farm holiday business started in 2000 and, despite the initial worries to run a totally new business and to comply with the complicated bureaucracy, the Giusti family decided to name its farmhouse "Il CampoGrande" after the plot of land where the manor house and the farm house have been built because in the past is was a common practice to give fields a nickname to identify them. In fact the name "CampoGrande" refers to the whole geographical area, but it has always been used to identify our estate.
Thanks to its enviable location, during the summer it is possible to go for a walk or for a mountain bike ride. You can buy at the farm a textbook showing eight mountain bike routes including some brief historical information of the picturesque spots and villages on the Valle di Chio, as well as distances, drinking water fountains and level of difficulty. The country house does not have any bikes, but they can be easily rented in Castiglion Fiorentino.
Upon request we can prepare traditional breakfast, lunch and dinner by using our organic and natural products coming from our farm and organize enjoyable cooking classes where you will learn how to make delicious wood-fired pizza and hand-made pasta dressed with traditional sauces of the Tuscan cuisine.
We recommend you to book your farm holiday activities in advance and to contact us to know prices and availability. We are waiting for you to stay and enjoy an unforgettable farm holiday at CampoGrande!
Food and Wine
At the farmhouse you will have the chance to taste the flavors of old times: the vegetable garden and the poultry house will provide us with good ingredients anytime. Bruschettas, panzanella, ribollita, T-bone steaks, game and much more: all these traditional recipes of the Tuscan cuisine will be made and served by the owners with all their courtesy, kindness and friendliness.
Your meals will always be paired with our wines, vinsanto and extra virgin olive oil. Since 1992 only organic produce is grown in our farm: nature is in our dna.
Our guests could also attend upon reservation Tuscan cooking classes and take their time to taste the meals made together: there's nothing better than enjoying what we create with our own hands.
We organize a dinner on Wednesdays, but we are also available to prepare breakfast and we can supply everything our guests may need.
And if you really love nature and life in the countryside, you are very welcome to take part in our agricultural activities such as grape harvest at the end of September, olive picking starting from mid November and vegetable harvest during the summer.
Horseback riding
Horseback riding and nature lovers will be happy to know that the new equestrian center "Di Chio" is located in Petreto, only one kilometer from the farmhouse. There are 11 mild and well looked after horses ready for you to go on guided horseback riding tours across plains or in the mountains.
This equestrian center is specialized in Haflinger horse breeding. Their horses are selected among the best European genealogies and are made available also for riding lessons.